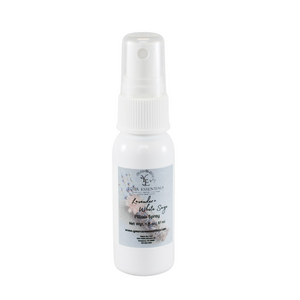 Get a great night's sleep with one of our best sellers the 1 oz. Lavender and White Sage pillow spray. 

Many of our customers find the soothing lavender fragrance to help to fall asleep faster and wake up feeling more refreshed. 

Before bedtime just spray your Sleep Spray on your pillow or sheets to help reduce sleep anxiety and improve sleep quality. 

Just a couple of sprays can eliminate odor in any room and is long lasting. Great to use in any area of the home, RV, car, dorm, patio or etc..... It contains the perfect balance of fragrance per mist, just shake to mix oils and spray. Makes a great gift too!
Why

Get a great night's sleep with one of our best sellers the 1 oz. Lavender and White Sage pillow spray.
Many of our customers find the soothing lavender fragrance to help to fall asleep faster and wake up feeling more refreshed.
Before bedtime just spray your Sleep Spray on your pillow or sheets to help reduce sleep anxiety and improve sleep quality.
Just a couple of sprays can eliminate odor in any room and is long lasting. Great to use in any area of the home, RV, car, dorm, patio or etc..... It contains the perfect balance of fragrance per mist, just shake to mix oils and spray. Makes a great gift too!

Description

Use as a linen or room spray.
Comes with a fine mist spray top. Avoid spraying on finished wood surfaces or in your eyes. Test in an inconspicuous spot before using on upholstery.

Ingredients

Distilled Water, Polysorbate-20, Propylene Glycol (and) Diazolidinyl Urea (and) Methylparaben (and) Propylparaben, Lavender Essential Oil and White Sage Essential Oil